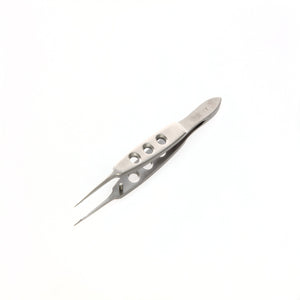 Straight Hoskins Forceps
10-8008
Our Blink Medical Hoskins Straight Forceps have an overall length of 108mm or 90mm with a 5mm tying platform. 
Straight Hoskins Forceps are designed to grasp, hold and mobilise tissues within the orbit, especially the fragile conjunctiva.
These Blink Medical Straight Hoskins Forceps offers a wide range of surgical benefits. Its principal use is to hold and manipulate the eye's conjunctiva without traumatically puncturing the tissue.
For this purpose, the instrument features very fine, straight jaws that ensure access into small and narrow spaces. In addition, the tips have 1 x 1 notched teeth with blunt edges that minimize the risk of conjunctival puncture.
We have a new improved design to the handle that has oval fenestrations and transverse ridges that avoid slippage.
Please quote '10-8009' as an internal reference. 
---
We Also Recommend