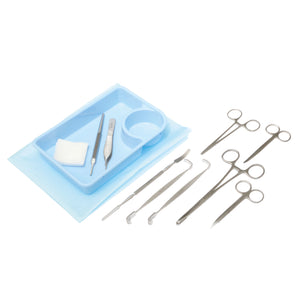 Carpal Tunnel Set
263
Our bespoke Carpal Tunnel Set was created here at Blink Medical using feedback and guidance from surgeons just like you. 
We worked with several surgeons to create a customised pack that:
Increased Efficiency
Improved Infection Control
Controlled Cost
Improved Product Traceability 
Reduced Clinical Waste
All whilst providing PREMIUM QUALITY instruments.
This Carpal Tunnel Set includes:
1 x Barron BP Scalpel Handle
1 x Needle Holder Halsey Smooth
1 x Curved Strabismus Scissors 11cm
1 x McDonald Dissector
1 x Adson Toothed Forceps, 0.5mm, Fine Toothed
1 x Rampley Sponge Holder (18cm)
1 x Curved Tenotomy Smooth Jaw Scissors
2 x Kilner Catspaw Retractor
1 x Tray with Gallipot Holder 
5 x Non Woven 5x5cm Swab
2 x FG12 30mm Catheter Tube
Please quote '263' as a product reference for this set.